Myrtle - Fifth Avenue Subway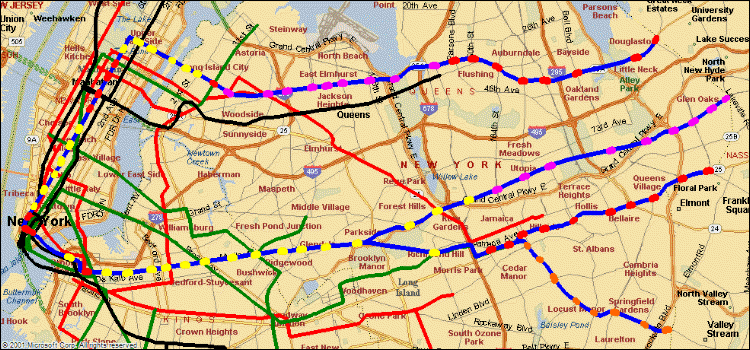 The Myrtle - Fifth Avenue Subway explores the possibilities of extended services in Queens. The major focus of this plan is the fast express services between the eastern ends of Queens and Midtown and Downtown Manhattan.

The system has four new lines running to the Nassau County line. These lines are two track elevateds, built on solid concrete risers, and well soundproofed. On the northern end of the system, the Northern Boulevard line runs to Glenwood Street. On the southern end, there are three lines, the Union Turnpike line to 271st Street, the Jamaica Avenue line to 256th Street, and the Merrick Boulevard line to 244th Street. All of these lines see rush hour service on a six minute headway.

Jamaica Center becomes a real hub with the two express trains running nonstop to Jay Street on Myrtle Avenue, and then on to Fifth Avenue in Manhattan. The Myrtle Avenue line is a four track subway, with local service from Jamaica Center to Fifth Avenue in Manhattan.

The line from Union Turnpike joins the Myrtle just east of the 82nd Street Station. Express trains continue nonstop to Jay Street. The local from 164th Street joins with the Myrtle Avenue Local providing two minute headways on that section of the line.

The new Myrtle Avenue Line will probably replace the existing Metropolitan Avenue branch.

With a single express stop in Brooklyn at Jay Street, the line crosses the East River through a new four track tunnel, with both the express and the local line having two minute headways at this point. There are no route switches between the 82nd Street merge of the Union Turnpike line and the 31st Street (at the Astoria Line) terminal of the local services.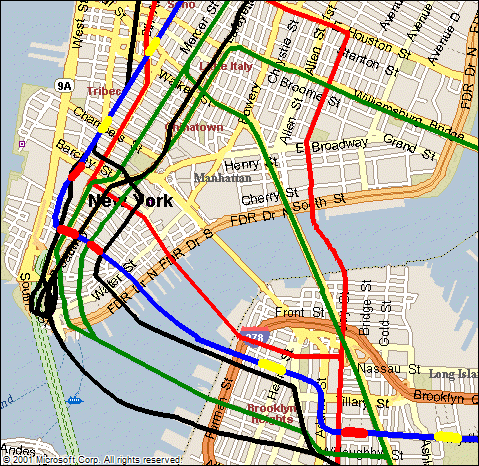 The Downtown Brooklyn-Manhattan area presents the greatest difficulty since there is so much existing trackage which must be taken into account even if one is not connecting to it. Seen in the detail above, the Myrtle Express comes in deep under the Manhattan Bridge line, and under the IND line on Jay Street. The only connection is with the Jay Street line, since the new line crosses under the BMT well to the north of the DeKalb Avenue Station, indeed at the location of the old Myrtle Avenue Station which would be undisturbed by the new construction. The Jay Street station is the only express stop in Brooklyn on this new line.

Continuing to the north, there is a four track tunnel under the East River, and the line follows deeply under Wall Street with connections to all lower Manhattan lines, and then turns north and goes under the 7th Avenue Line along West Broadway. Once past the World Trade Center, there is a long string of local stations until 34th Street, where we pick up a few more express stops before bending east again at 72nd Street.

All four tracks pass through another new tunnel under the East River at 72nd Street, with the Fifth Avenue local services terminating at 31st Street in Queens (with transfer to the Astoria Line). Two of the Fifth Avenue Express services become Local on Northern Boulevard, running past Shea Stadium, and Main Street and terminating at Parsons Boulevard. This part of Northern Boulevard would then see service on a three minute rush hour headway.

Beyond Parsons Boulevard, the line is once again a two track elevated line running to Glenwood Street on a six minute headway. The route diagrams are found using the link below.



Routes on the Myrtle - Fifth Avenue Line