What If...
There were no subways in New York City,
and you could design whatever you wanted.
Suppose there were no existing subways, nothing to build around, no franchises between competing lines, and an unlimited budget. Your mission is to create a modern, efficient system that allows dense service in Manhattan and maximum coverage in Brooklyn, Queens and the Bronx.
Among the salient characteristics of this plan, There is very little route switching in Manhattan, once a route joins a trunk line it enters and leaves Manhattan without switching either line to line or local to express. Another feature is that Manhattan locals for the most part, do not leave Manhattan. Most of these originate at South Ferry and find their northern terminal before the trunk route leaves the island. This means that even locals in Brooklyn, Queens or the Bronx are express in Manhattan. Manhattan express trains try to serve midtown and downtown, and leave the middle to the locals. Finally, there are hubs. These hubs are major transfer (or terminal) points. Certainly the most important and impressive of these is the hub at Brooklyn Center where nine routes converge in a single station, with no switching of tracks whatsoever.
I hope that you enjoy looking at these maps and at this project, to see what "could have been," but more to the point to try out ideas for future constructions, just as soon as the city can find this "unlimited budget."
Route Descriptions

Brooklyn Routes
Queens Routes

Bronx Routes
Click on the map for area details.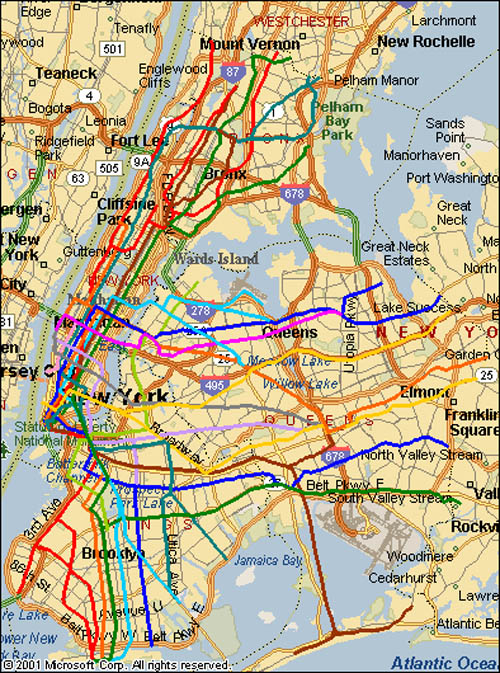 Download Maps Files