Making the Crooked Ways Straight...
J - JJ Jamaica - Broadway Lines

For as long as there has been a Jamaica Avenue Line, there has been a long slow trip into Manhattan. Part of this problem is that some of the original alignment dates from the days when it was the BMT Fulton Street Line. That tight curve at Crescent Street seems to be the slowest part of the entire subway system.

So, in this fix, I have gotten rid of that 'S' curve, and created a faster line as well. This is accomplished by breaking the line, and running the JJ (Local) to Rockaway Blvd. via Fulton Street, making all of the original stops, and adding a new, and efficient terminal at Rockaway Blvd.

The J (Express) service from Jamaica Center is carried on a new el structure on Jamaica Avenue, with the elimination of the line on Crescent Street, and the Cypress Hills station. New stations are located at Ridgewood Avenue, and at Euclid Avenue. This line will run express from Broadway Junction to Marcy Street in the rush direction

The M (Myrtle Avenue Line) would be eliminated in favor of a new Myrtle Avenue Subway.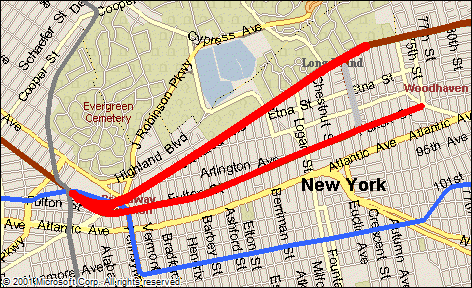 G and 7 routes: A new Queens Plaza Line

The atrocious curves of the Number 7 train have always bothered me. Sure, Queensboro Plaza was where it was happening when it was happening there, but it isn't happening there any more, so lets straighten things out here...

The number 7 train comes out of its hole,and follows the BQE to Roosevelt Avenue. Gone is the 45th Road stop, Queensboro Plaza is left to the N train, and the three stations and the el structure along Queens Blvd. are also gone. The 7 will make new stops at 25th and 31st Streets, and at 48th Avenue and Queens Blvd. before rejoining the existing structure just north of Queens Blvd.

Then, a new subway is placed under Queens Blvd. Since the existing Queens line (running on Norther Blvd. and on Broadway at this point) is already over saturated, the new line will pick up from the 53rd street tunnel, and carry the GG, and the V trains on a two track line, rejoining the Queens line on a new lower level to Continental Avenue.

Service alignments then might be like this:
F from 179 via Northern Blvd. and 63rd St. tunnel to 6th Avenue
E from Jamaica Center via Northern Blvd. and 63rd St. tunnel to 2nd Avenue
R from Continental Avenue via Broadway and the 60th St. tunnel to Broadway
N from Astoria via 60th Street tunnel to Broadway
W from the Bronx via 2nd Avenue then via 63rd Street to Broadway
G from Continental Avenue via Queens Blvd. to Brooklyn
V from Continental (or perhaps 179) via Queens Blvd. and the 53rd St. tunnel to 6th Avenue
EE from Continental Avenue via Broadway and 53rd St. Tunnel to 8th Avenue
7 and 7X via Roosevelt Avenue as ever.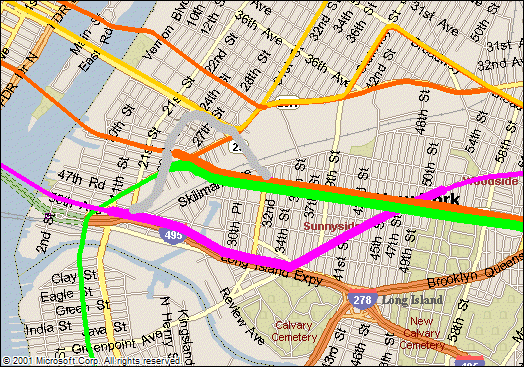 7 - 7X Extension and Terminal in Queens
Recent tests and attempts to increase the service on the number 7 line seem to develop a bottle neck at Main Street. Now when Main Street was built, I understood that they understood that it was not to be the end of the line. I would extend the line two more stops (Parsons Blvd. and Northern Blvd.) This subway extension is a two track line through Parsons, and opening up into a four track, two platform terminal at Northern Blvd. But I have added a loop under the LIRR ROW and Broadway Station. So there are two tracks available for arriving trains, and crews are able to give the time they need to discharge the train, then they run the loop and are ready to depart on the southbound tracks, one loading wile the other is leaving. This arrangement should have no troubles handling 36 or even 40 tph on this line.